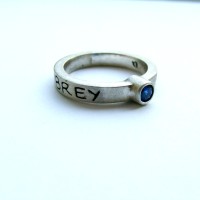 Mother's Rings Sterling Silver with Birthstone
Mother's Rings Sterling Silver with Birthstone
$204.00
Birthstone will be set in a sterling silver bezel.  Choose between faceted or cabochon cut.  We use lab created stones in Mother's Rings to maintain consistent quality. Please call or email us if you'd like a quote for a natural stone.
Birthstone is typically placed between the child's first and middle names.
Please allow us approximately two weeks to create your one of a kind Sterling Silver Mother's Ring with Birthstone.