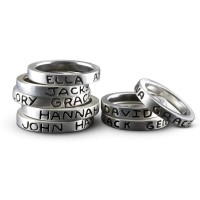 Mother's Rings Sterling Silver
Mother's Rings Sterling Silver
$129.00
Sterling Silver Mother's Rings – Each ring is hand carved individually here in our shop in downtown Fayetteville, AR. Each ring can hold approximately 18 characters and bears the name, usually first and middle, of your child.
Inscriptions are in ALL CAPS.
* Please note that if you would like your Mother's Ring(s) before Christmas, your order must be placed by December 15, 2014.